Markéta Grimaux - About author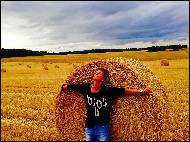 * 26.2.1972
Study: atelier Beaux Arts

Markéta Grimaux (1972)
Majitelka ateliéru Beaux Arts v Praze.
Ve volném čase se věnuje malování a interierovému designu.
V posledních dvouch letech se v malbě upnula k hyperrealismu.
Hyperrealismus není technika,ale umělecký směr, kde reálně přesné motivy jsou na plátně zachyceny s největším detailem tak, že někdy ani na první pohled neni možné rozeznat malbu od fotografie.
Na rozdíl od fotorealismu, ale nezpochybňuje tvůrčí gesto autora - prezentuje jeho vidění a zkušenost s vnějším světem.
Hyperrealismus byl, stejně jako celá řada dalších směrů, jakousi revoltou proti příliš vážně se beroucímu abstraktnímu expresionismu i výrazově omezenému minimalismu.
Hyperrealistická díla nejsou surreálná, nejsou pokřivením reality, nýbrž jejím zdůrazněním, jsou zobrazením reality, která nikdy neexistovala. Tento styl byl vysoce precizní a mechanický a zdůrazňoval obyčejnost reality každodenního života
Hyperrealista maluje věci s "maximální hloubkou ostrosti".
A tímto směrem se vydala i autorka Markéta Grimaux.
Její obrazy nemají hluboky podtext či sáhodlouhé vysvětlovaní co se v obraze vidět má, co tam kdo vidi nebo spis nevidi.Chce podtrhnout techniku, kterou maluje a upřednostnit krásu detailu.
Jde o hodiny a hodiny trpělivé práce s vytvořením takzvaného reálného obrazu.
Solo Exhibitions:
2017,Cat Power, october-november, Kocici kavarna, Prague, Czech republic
Group Exhibitions:
2017 september, Kocici kavarna, Prague, Czech republic
2016 Cafe Charmé, '' It's just the beginning!'' Prague,Czech republic
2016 gallery Pragovka Art District, ''Jak se rodí hvězdy'' Prague,Czech republic
2016 Naše maso, ''Golden Pig Sculpture '' , Prague, Czech republic
2016 NOD gallery, ''Samorosti'' 4th exhibition of independent artist of Prague,Czech republic
2015 NOD gallery, ''Samorosti'' 3th exhibition of independent artist of Prague,Czech republic
Markéta Grimaux, ART
www.grimaux.com
www.atelier-beauxarts.cz
Motto: "Marketa" without ART is just "mkea"
Markéta GRIMAUX ( 1972 )
Owner of Atelier Beaux Arts in Prague
Among Marketa's many interests is interior design and painting, and in the past two year, she has started to focus on Hyper Realism.
Hyper Realism involves scenes of such detail and accuracy that at first glance you can't always tell a painting from a photograph. Unlike photo-realism, it doesn't shy away from the artist's influence. The artist projects his or her point of view and experiences onto the outside world.
Like many other movements, Hyper Realism was a revolt against abstract expressionism and minimalism, which many perceived as too abstract.
Hyperrealistic art is not surreal nor a distortion of reality but a highlight of reality. It depicts it in such a way that the exact scene may never really have existed. The style is precise and mechanical, focusing as much as possible on the mundane aspects of everyday life.
Marketa Grimaux's images don't require much interpretation. She wants to stress the technique of the painting and the beauty of the detail.
It takes many hours of patient work to create such a precisely realistic image.
Solo Exhibitions:
2017,Cat Power, october-november, Kocici kavarna, Prague, Czech republic
Group Exhibitions:
2017,september, Kocici kavarna, Prague, Czech republic
2016 Cafe Charmé, '' It's just the beginning!'' Prague,Czech republic
2016 gallery Pragovka Art District, ''Jak se rodí hvězdy'' Prague,Czech republic
2016 Naše maso, ''Golden Pig Sculpture '' , Prague, Czech republic
2016 NOD gallery, ''Samorosti'' 4th exhibition of independent artist of Prague,Czech republic
2015 NOD gallery, ''Samorosti'' 3th exhibition of independent artist of Prague,Czech republic
Motto:
"Marketa" without ART is just "mkea"